Member Benefits
|
4 years, 3 months ago
Government ban all charges for paying by credit or debit cards
New rules which came into effect earlier in the year, now mean consumers cannot be penalised for choosing to pay by credit or debit card, either online or in-store.  Whilst this is a positive outcome for us all as consumers, it also magnifies the importance of tradespeople having a cost effective and simple solution to taking credit card payments.
TradeHelp partner with iZettle, whose card reader takes card and contactless payments in seconds, wherever and whenever.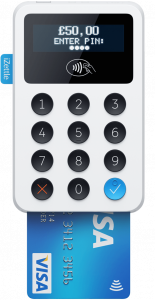 Link to your TradeHelp App
Our app integrates with iZettle, allowing you to create a quote, email it directly to the customer and then log the payment through your TradeHelp app before sending the customer an instant pre populated invoice.
Deposits within Days
iZettle deposit the money you've earned within 1-2 business days, no matter which cards you process. It means you can stop waiting weeks to receive your funds, and keep your cash flowing.
Faster Card Payments
The new iZettle Reader not only looks the part but accepts card and contactless payments 25% faster than other mobile card readers on the market.  It even has a full day battery life. No Cables.  No hassle.
No Set up Fees. No lock in contract
Get started with the free 'GO' option.  There are no set up fees and no lock in contracts.  With TradeHelp you can purchase the iZettle card reader for a one off £29 and then iZettle charge 1.75% on each card reader transaction.  That's it!
To find out more today just go to https://www.izettle.com/gb/tradehelp or call us on 01978 666 887.