Manufacturer Partners
|
6 years, 5 months ago
Magnetic filtration pioneers, and TradeHelp partner manufacturer, ADEY, has increased the warranty on its MagnaClean Professional2 and Micro2 filters, becoming the first filter manufacturer to provide whole product protection for ten years*.
The new warranty reflects the company's confidence in the proven performance of its products which is supported by more than 2,000 hours of rigorous component testing, ensuring only the highest quality materials are used.
ADEY's own comprehensive materials testing includes simulated 10-year system cycle testing for temperature, pressure and thermal-shock, hydro-static destruction testing, performance testing for magnetic and non-magnetic capture, simulated flow testing, in addition to independent testing by BSI.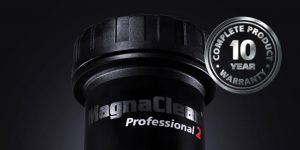 John Vaughan, ADEY Chief Executive, says: "For more than a decade, ADEY has been providing the industry with the best quality products on the market. The extensive testing we undertake on our products means that we are the only filter manufacturer that can provide installers with a 10-year warranty on the whole product, not just the shell of the filter. This will help give installers and their customers peace of mind that they can trust MagnaClean to provide optimum boiler protection for the long-term without issue."
MagnaClean filters are proven to reduce home heating bills and carbon emissions by 6% year on year, saving up to £66 for a three-bedroom property. By protecting heating systems from a build-up of damaging black iron oxide sludge, MagnaClean also helps to reduce maintenance call-outs and increase the lifespan of boiler beyond the average 12-15 years.
* T&Cs apply