ACS Centres
|
5 years, 9 months ago
Government Supported Apprenticeship Opportunity
EU Skills announced in November 2017 that the country faces a 221,000 shortfall of skilled operatives.  Due to this shortfall, and to make the taking on of apprentices more attractive, the government will subsidise 90% of apprenticeship training costs for non-levy paying SME's and 100% fund apprenticeships for those aged 16-18.
16-18 fully funded 100% by government (49 or less staff)
19+ 10% employer contribution / 90% contribution government
To aid this the wage bill for the apprentice can be £3.50 per hour for the first year, rising to age specific minimum wage until they complete the full apprenticeship.
Interested in taking on an apprentice?

If TradeHelp members are interested in taking on an apprentice paying only 10% of the training cost themselves, ECTA can deliver Level 3 Gas Engineering Apprenticeships to non-levy companies.
The learner would undertake an 18 month Level 3 apprenticeship with 20% 'off the job' training carried out at ECTA's Stockport training centre and 80% 'on the job' training through a placement with the Gas Safe registered company, developing the skills and knowledge they have gained under a mentored work placement. This supports recruitment needs of the company, reducing cost in both recruitment and wages bill and allows the apprentice to be trained and developed in the manner which the company culture requires, underpinning recruitment, retention and qualification.
On successful completion, the learner will be Gas Safe registered (4 appliances) and have Functional Skills Level 2 in addition to completing their Level 3 qualification in Gas Engineering.
Want to know more?
ECTA are holding an open day on 23rd March at their training and assessment centre in Stockport.
ECTA Open Day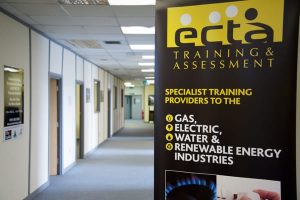 With the recent changes to the routes into the Gas Industry see how ECTA can help your business meet future staff requirements.
The short sessions (approx. 1 – 2 hrs) will cover:
Apprenticeship routes – benefits for business, costs and commitments
Managed Learning Programmes – benefits, costs and different delivery models
Tea, Coffee and Refreshments are provided.
So whether you are looking to upskill existing staff, or are thinking about how to meet future business staffing needs, call ECTA to find out your options for securing skilled gas engineers.
To reserve your place email [email protected] or call ECTA on 0161 480 5656.
For more information visit the ECTA website.