5 minutes down the local
|
5 years, 6 months ago
Down the local with Paul Maguire, our own Head of Supply Chain Networks
Paul, one of the key team members behind the TradeHelp Buying Group, joined us from British Gas and previously PH Jones.  Day to day he uses 27 years' experience in the industry to negotiate special offers and discounts for our Buying Group members from key manufacturers in the industry.  When he's not procuring, or 'robot-ing' around the TradeHelp office, he can be found enjoying the pleasures of Costa del Bala with his family.  We join Paul for 5 minutes down the local to find out more…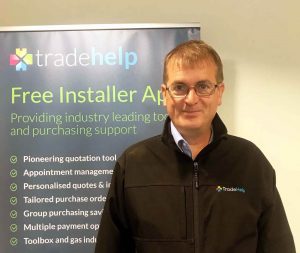 Four celebrities in your favourite boozer – who would you invite?
Peter Kay, David Attenborough, Angelina Jolie, Vinny Jones
What would you choose to drink?
Real Ale then JD and Coke
Which sport would you debate?
Rugby League v Rugby Union
What would be playing on the jukebox?
James U2 Madness
Which book or film would you recommend?
Alien /Star Wars/ God Father
What would you call your autobiography?
Life by a Robot
Something that people would be surprised to learn about you…
I use to run for Cheshire as a kid
How would you spend your ideal weekend?
At my Caravan in Bala when the sun is out, kayaking on the lake
What was your first paid job?
Junior Accounts Clerk at Cruden Construction (paper round & milk round when I was at school)
The best piece of advice you have ever been given…
Spend as much time as possible with your kids because they grow up very quickly
What is your biggest regret?
Never working hard enough at school
What would you most like to achieve over the next 12 months?
Seeing TradeHelp continuing to grow at the current rate