Manufacturer Partners
|
3 years, 2 months ago
Smart programmable thermostats with timed hot water control.
Any System. Any Boiler. Anywhere.
Supported by cash back through the free TradeHelp Buying Group, the innovative T6 Smart Thermostat range is our product of the month.

T6 Smart Thermostat Range
Smart, connected, and programmable, the stylish T6 thermostats provide intuitive time, temperature and hot water heating control, as well as a two heating zone solution.
The Honeywell Home T6 thermostats are compatible with any boiler and any system including 24–230V on/off and OpenTherm appliances such as gas and oil boilers, combi boilers and heat pumps. The T6 range also controls zone valve applications, providing time control of stored domestic hot water and two heating zone applications (S Plan Plus). This range of thermostats cannot control electric heating.
All models include control via smartphone/tablet, connecting directly to home broadband networks.
Location-based temperature control (geo-fencing) – automatically adjusts the required room temperature dependent on location. The thermostats communicate with the app to determine when the home is vacant or when the homeowner is on their way home, adjusting the temperature accordingly. Remote location setting and schedule control can be accessed and used by multiple users. Remote location control can also be used to control hot water.
OpenTherm; TPI and Optimum start/stop & delayed start boiler control operate as three layers of automatic intelligent control, allowing the thermostat and boiler to work more efficiently.
Home Integration ready – Apple HomeKit, Amazon Alexa and Google Home systems all recognise T6 thermostats.
T6 Smart Thermostats
The different models in the Honeywell Home T6 range provide everything the installer needs to control heating and hot water in any boiler and any system. With attractive, ultramodern styling, T6 thermostats are ideal in any location and any home.
All models include:
Touch-screen interface with easily recognised icons
Wi-Fi-enabled connectivity allows direct connection to home networks without additional equipment
Will work as a non-connected thermostat when not connected to the home broadband network
7 day, 5/2 day and single day scheduling with a preconfigured schedule included. Choice of up to 6 time periods per day
'In use' confirmation
Time-out screen with selectable brightness levels
Set point and room temperature displayed
5–37 °C temperature range, with minimum/maximum set point facility and off position frost protection
Temperature measurement can be offset to suit the position of the thermostat
240V powered (not reliant on batteries)
Alert messages to assist fault-finding
T6 Smart Thermostat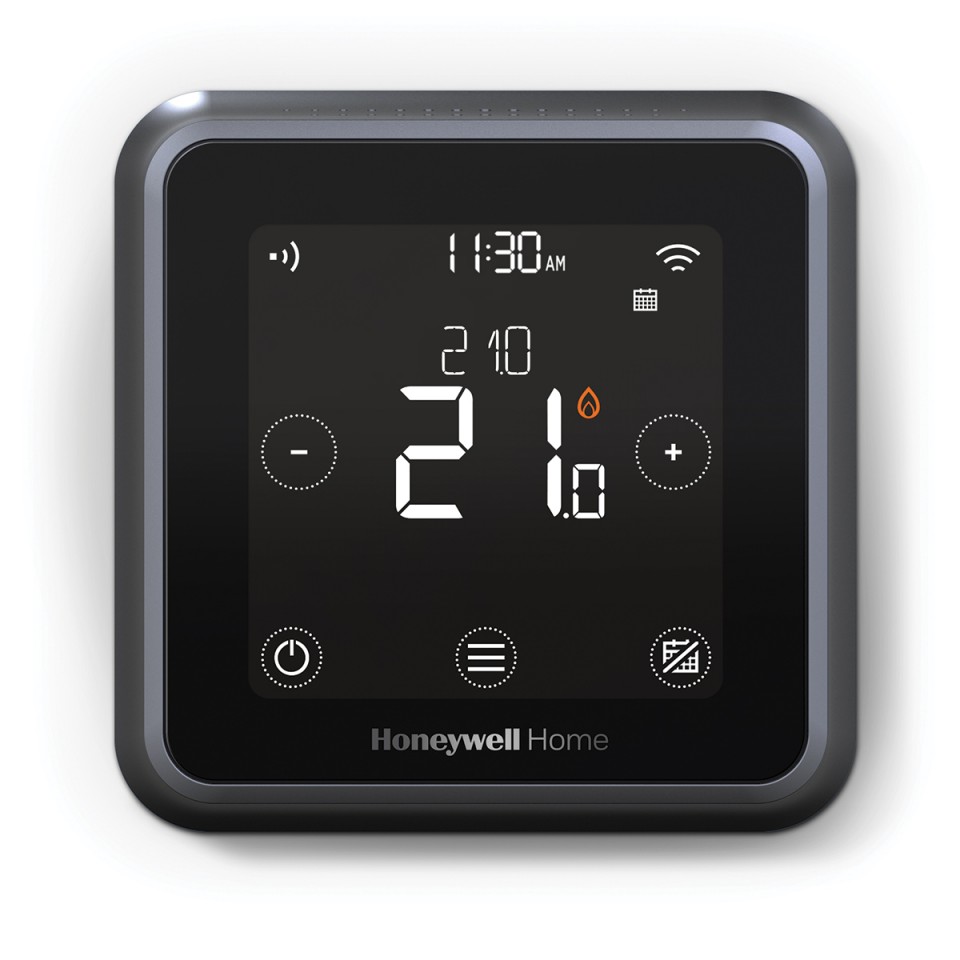 T6R and T6R-HW Smart Thermostat
Providing easy switch-over for existing wireless receiver boxes with a simple, one-wire path to the boiler, the TR6 requires only mains power, and communicates wirelessly to the boiler control unit (included). The T6R-HW additionally includes hot water control.
Cash Back Through the TradeHelp Buying Group
As a member of the free Buying Group you can access cash back on the T6 range from your preferred merchant. If you purchase from City Plumbing Supplies, Wolseley, Plumbase, Graham or James Hargreaves, you do not need to provide proof of purchase. TradeHelp get reports from these merchants and will make the claim on your behalf. The cash back is paid directly into your account on receipt of funds from the manufacturer. For purchases from any other merchant/ supplier, please send proof of purchase to [email protected] or use the handy 'Document Upload' section in the TradeHelp app.
Not yet a member?
Join today through the link below and start saving.