*Featured Special Offers
|
2 years, 25 days ago
As Sentinel launch the new Sentinel ServiceBoost Portal, we take a look at some of the fantastic products supported by their new loyalty scheme!
CLEAN – PROTECT – MAINTAIN
The Sentinel System provides lifetime protection for heating and hot water systems with the best practice of Clean, Protect and Maintain.
Today we are taking a look at cleaning and three key products Sentinel offer.
To sign up to the free Sentinel ServiceBoost portal and start benefitting from the new loyalty scheme, plus much more, simply register via the link below.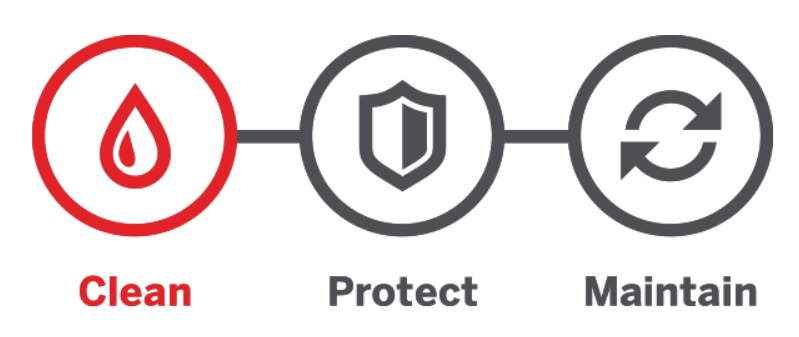 "Cleaning a dirty central heating system could save you £124 every year"*
– Gastec
The Facts:
The Compliance Guide to Part L of the UK Building Regulations now states that when installing a boiler onto a new or existing central heating system, the system should be thoroughly cleaned.
Cleaning a new system will remove any installation debris and flux residues which if left inside the system will cause corrosion.
Restoring an old system will remove sludge build-up, improving the efficiency of the system and help save on fuel costs.
The Products:
Sentinel X300 – Cleaner for NEW Systems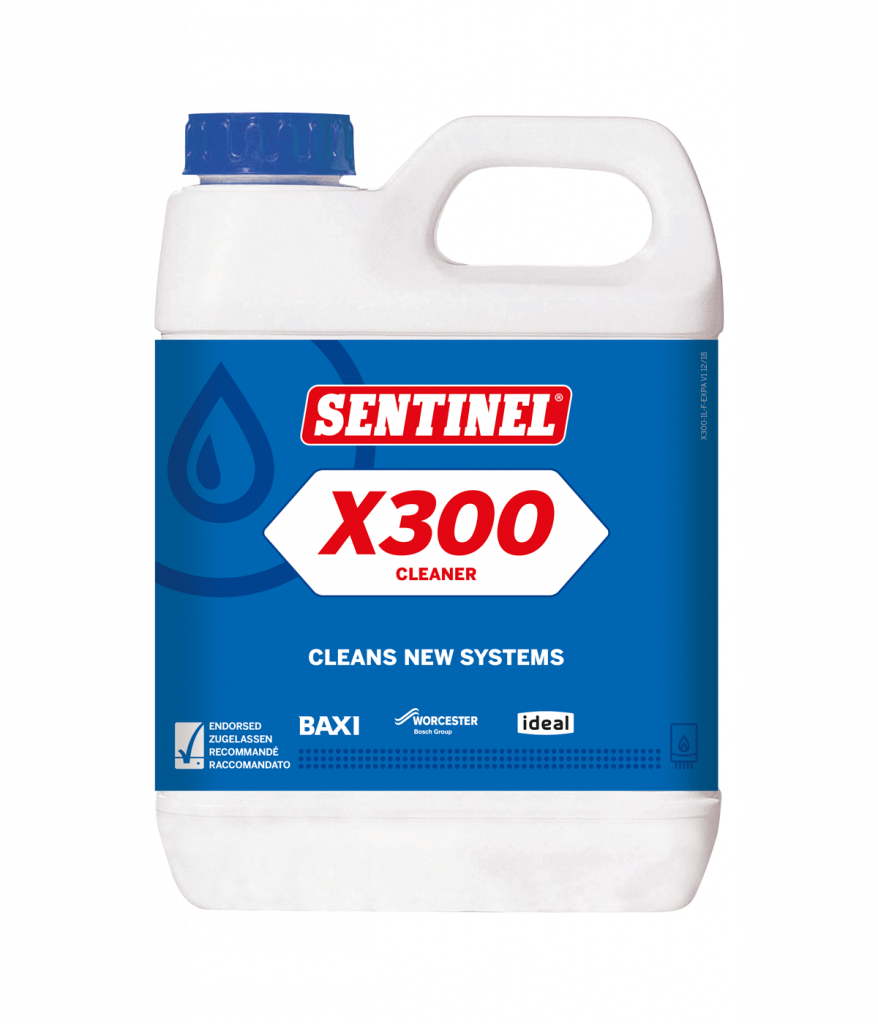 Specifically designed for cleaning new central heating systems, Sentinel X300 Cleaner for New Systems is a powerful, heavy-duty cleaner for the removal of installation debris and grease. This prepares the system for the addition of an inhibitor, which will protect the system components and prolong their effective life.
KEY FEATURES
Cleans new heating systems (up to 6 months old)
Powerful, heavy duty cleaning action
Removes installation debris
Washes off manufacturing greases
Eliminates corrosive flux residue
Prevents harmful copper deposits being left in the system
Prepares system for protection with X100 Inhibitor

Sentinel X400 – High Performance Cleaner (for systems older than 6 months)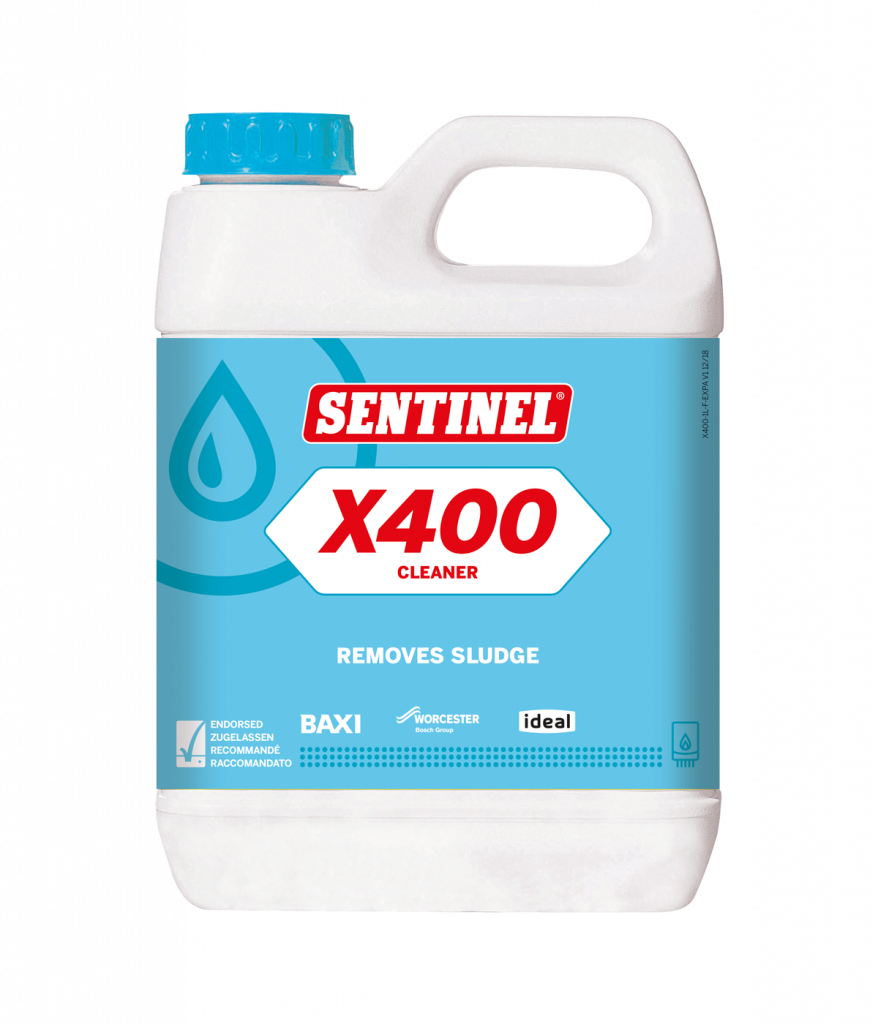 Sentinel X400 High Performance Cleaner is specifically designed for cleaning older central heating systems. It is a non-acid treatment which restores circulation to radiators and pipework. Its ruthlessly efficient formula shifts built-up magnetite sludge, eliminating cold spots in radiators and restoring proper heat distribution

KEY FEATURES
Restores systems suffering with circulation problems
Eliminates radiator cold spots
Prepares older systems for the installation of new components
Has a non-acid formula which does not cause pin-holing or leaks
Can be used in all types of indirect heating systems, including those containing aluminium
Sentinel X800 – Fast Acting Cleaner (for older systems)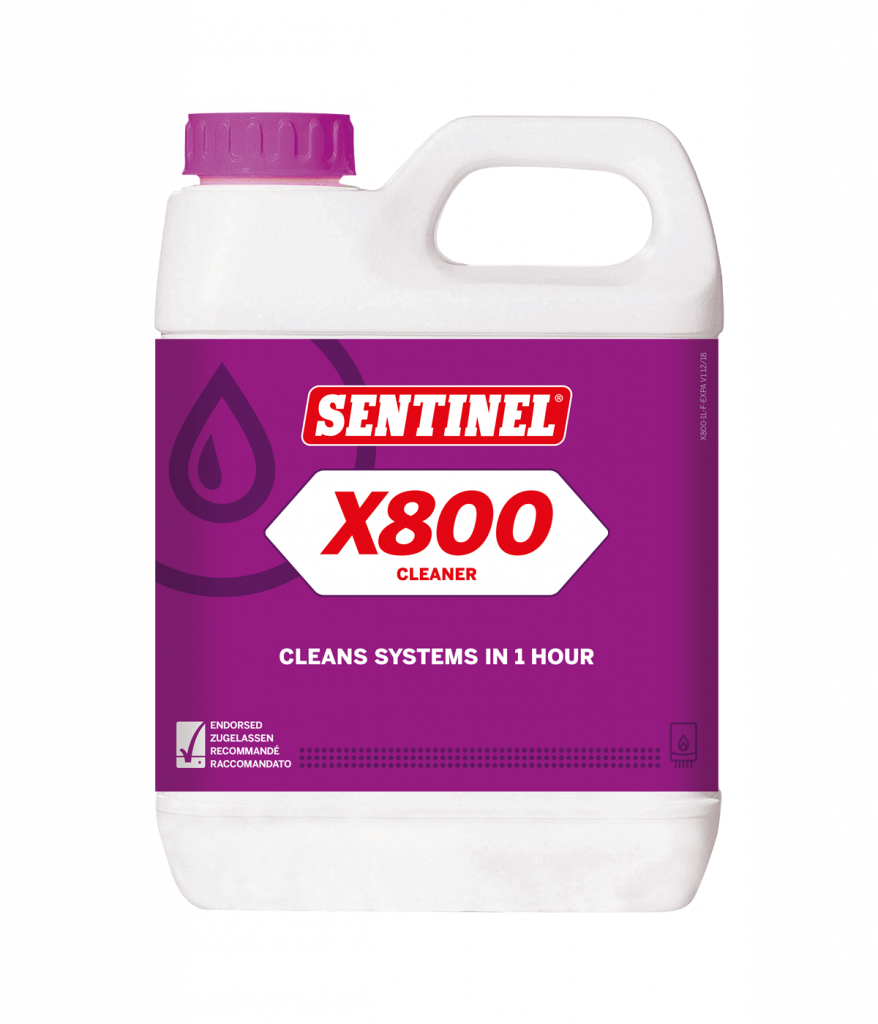 To quickly remove corrosion deposits and scale in 1 hour, older systems should be cleaned with Sentinel X800 Fast Acting Cleaner to fully restore system efficiency.

KEY FEATURES
Unrivalled chemical technology reduces circulation time to just 1 hour
Targeted dissolution of corrosion debris
Works in cold systems
Ideal for powerflushing
*Based on the cost of replacement heat using an electric heater
The Sentinel ServiceBoost Portal – FREE to use