*Featured Special Offers
|
1 year, 4 months ago
FERNOX SAYS ENGINEERS SHOULD BE AWARE OF CHANGES TO PART L.
Leading water treatment manufacturer Fernox is calling on heating and plumbing professionals to ensure that they are implementing the best practice guidance outlined in BS 7593:2019 that came into effect on 15th June.
Approved Document L of the Building Regulations, which looks at the conservation of fuel and power, has been updated to include additional measures that will help to keep central heating systems working at optimum efficiency, thereby reducing carbon emissions and fuel wastage. The changes include ensuring an in-line filter is installed, checking inhibitor levels on site annually and conducting laboratory analysis of the system water, or re-dosing, every five years.
Fernox recognises that many tradespeople will already be taking steps to correctly clean, guard, protect, maintain and test central heating systems – but is encouraging engineers to carefully consider the water treatment products that they are using. To make compliance as quick and easy as possible, Fernox offers a wide range of solutions that can help to improve engineers' on-site productivity and efficiency at every stage of the commissioning and maintenance process.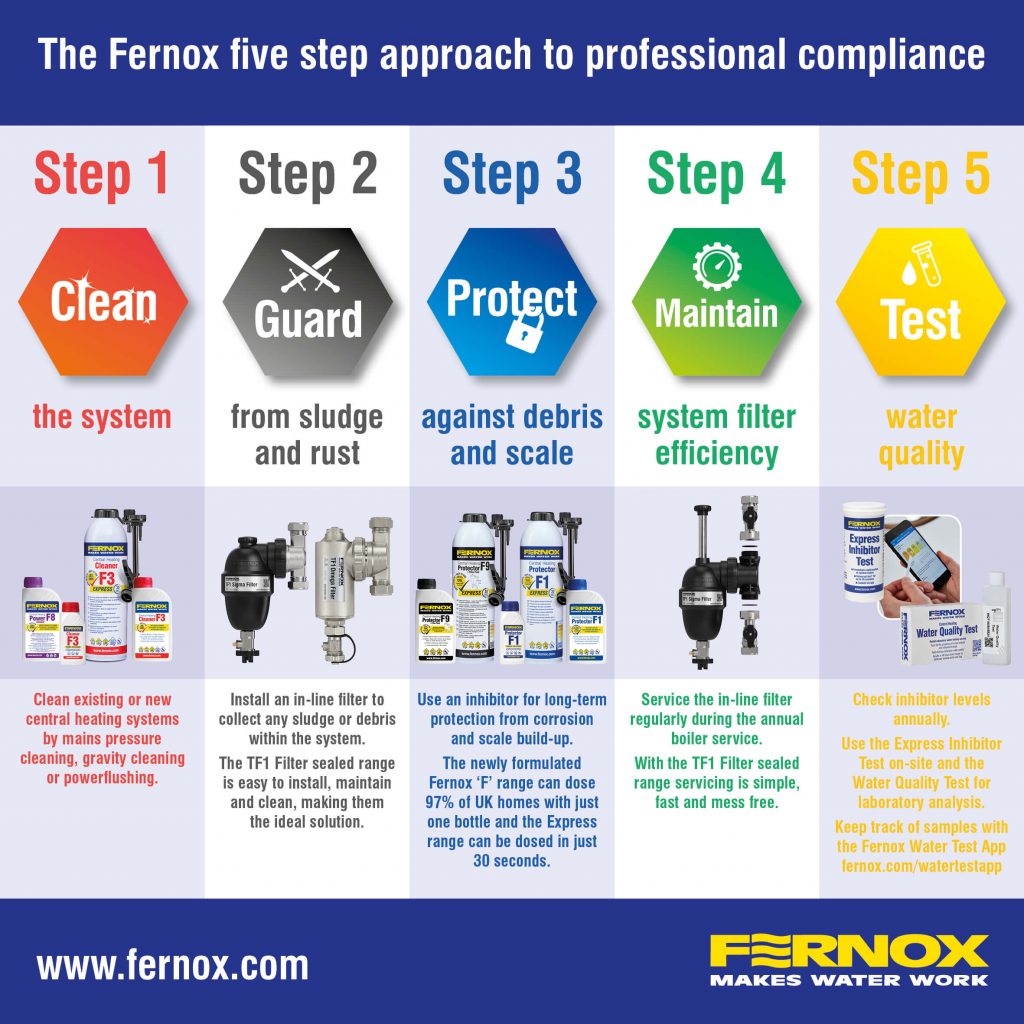 View Fernox Part L Compliance Products
---
Fernox Water Test App
The Fernox Water Test App is designed to automate the Fernox Water Testing process for Fernox customers who require confirmation that a central heating system has been adequately cleaned and treated.
The App enables heating engineers and installers to upload data about water samples from their customers' central heating systems via mobile devices. This data will be automatically sent to Fernox laboratory services and linked to the physical water test sample.
The App user will have the ability to check the pass/ fail status of individual water samples via the App within 48 hours once the full report has been completed. The registered Fernox customer will be able to view the published report via the dedicated Water Test website portal.
The Fernox Water Test App can be used with the Fernox Water Quality Test, as well as the new Fernox Express Inhibitor Test, made for quick and simple on-site testing.
Download the Fernox Water Test App: