5 minutes down the local
|
4 years, 7 months ago
TradeHelp catch up with Simon for a quick fire question round over a G & T…
Down the local with Simon Platts – National Account Manager at Salamander Pumps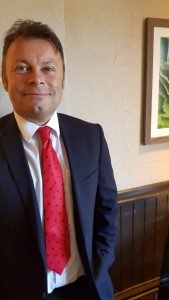 Four celebrities in your favourite boozer – who would you invite?
Liam Gallagher, Danny Dyer, Pep Guardiola, Paul Weller
What would you choose to drink?
As I'm on a diet it would be gin and slimline tonic
Which sport would you debate?
Football
What would be playing on the jukebox?
The Beatles
Which book or film would you recommend?
The Good, The Bad and The Bubbly – George Best
What would you call your autobiography?
Growing Up
Something that people would be surprised to learn about you…
I used to be an altar boy until I could kick a ball
How would you spend your ideal weekend?
Manchester City followed by a curry on the Saturday and retail therapy with my lady on the Sunday
What was your first paid job?
629 newspapers every Friday in the tower blocks
The best piece of advice you have ever been given…
My late father "If you put something in to life what you want to take out then you will be Ok."
What is your biggest regret?
I don't ever regret – life is about the experience
What would you most like to achieve over the next 12 months?
To lose 2 stone in weight
To find out more about Salamander Pumps take a look at their website here.
HomeBoost, the intelligent mains water pump from Salamander Pumps, is available through the TradeHelp Buying Group for just £199 +vat  (RRP £330.00).
Take a look at our story for full information or to find out more about the savings you can make through the free TradeHelp Buying Group, please call us on 01978 666 887 or download the TradeHelp App.
The app is free to download and use from the App Store or Google Play.