Manufacturer Partners
|
2 years, 10 months ago
Excelerate business with the Worcester Bosch loyalty scheme – one that puts you in the driving seat!
Putting the Excel into Excelerate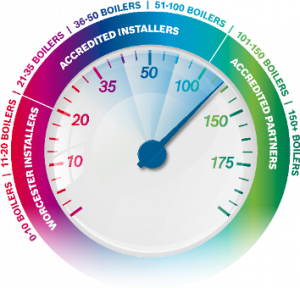 With Excelerate, you decide how far you want to travel through the levels of Worcester's WAI and Rewards programme – no restrictions! Progressing up the 'loyalty ladder' is now a seamless journey. Earn points for every boiler you install and spend them on the things that appeal most to you, whether that's new power tools, shopping vouchers, Bosch white goods, training, digital support and much, much more. As you accumulate points you can tune and re-tune the benefits you receive to always best serve your business.
Further Cash Back
Don't forget you can also access additional cash back as a member of the free TradeHelp Buying Group – on all Worcester Bosch boilers (excluding 2000 model and packs). Not a member? Download the app from the App Store or Google Play and sign up for free, or join through the link below.