*Featured Special Offers
|
2 years, 4 months ago
We are delighted to celebrate our product of the month, the new Greenstar 4000, with a fantastic special offer!
£40 cash back on the 4000
PLUS SIX months FREE subscription to the TradeHelp Office HeatPRO software!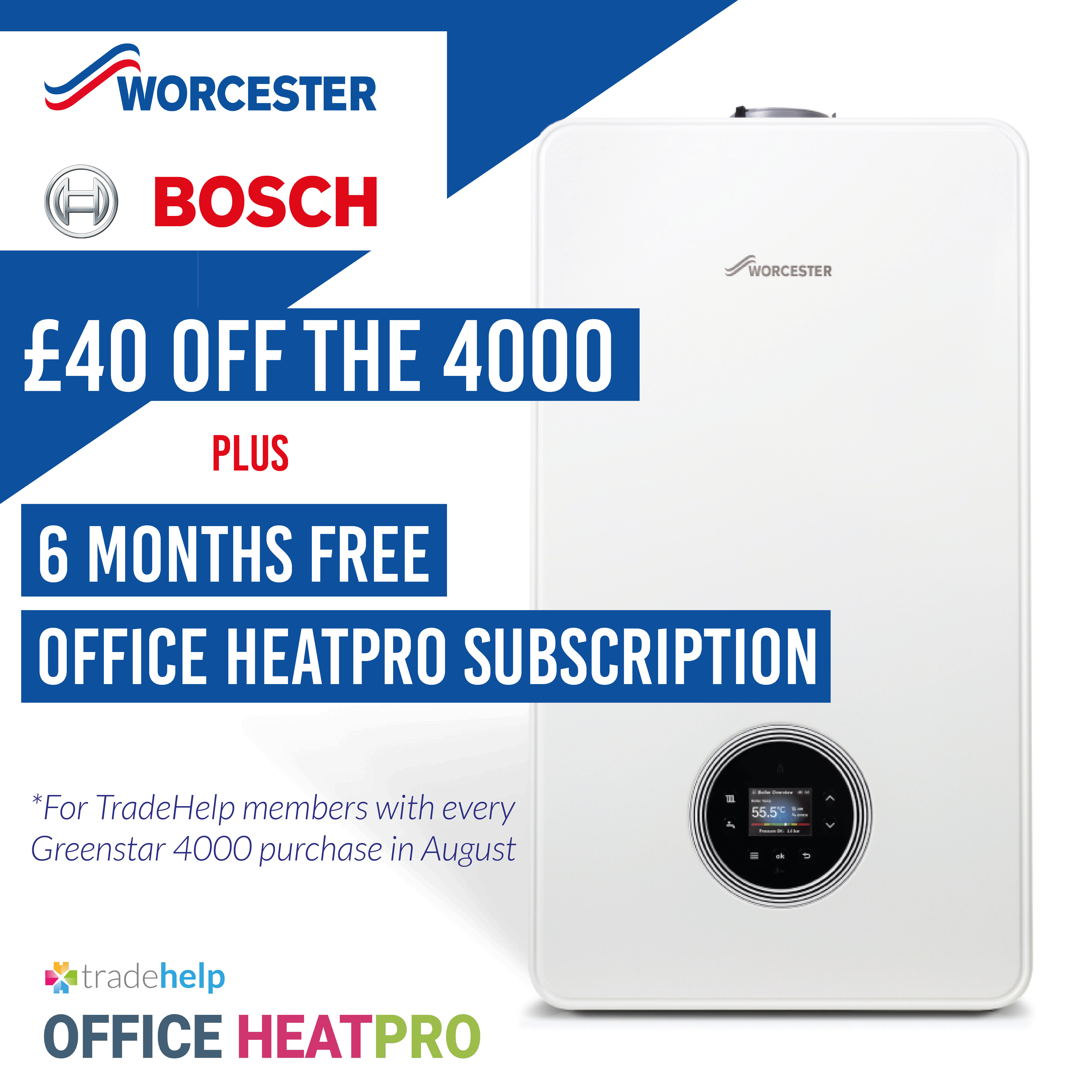 The Offer
For each Worcester Bosch Greenstar 4000 purchased during August, TradeHelp Buying Group members can claim £40 cash back* (rather than the standard £10) and will also get 6 months free use of TradeHelp's new heating specialist desktop software, TradeHelp Office HeatPRO**.
Use Office HeatPRO alongside the free TradeHelp app to manage your daily paperwork at home or in the office, whilst benefitting from links to Quickbooks and Xero, simple personalised service plans with easy direct debit set up and a web quote tool – to generate installation leads from your own website and social media.
How to Claim
Simply purchase a Worcester Bosch Greenstar 4000 during August and email your proof of purchase to [email protected] with the code CLAIM4000. You can purchase from any merchant of your choice.
A member of the team will confirm receipt, make your cash back claim and set you up with your 6 months' free access to the HeatPRO software.
Join TradeHelp for Free today

Not already a member? Join today and benefit from:
Full unlimited access to the free TradeHelp app (available from the App Store or Google Play)
Savings through TradeHelp Buying Group (including this promotion)
The ability to offer finance to your customers.
Join Now

Worcester Bosch Greenstar 4000
Built on all the tried, tested and much-loved features of the Greenstar i, the Greenstar 4000 is instantly familiar and yet totally transformed.
Worcester Bosch have raised the bar with the speed and ease of installation, commissioning and servicing, alongside improvements in efficiency and control. PLUS, join up to Excelerate and offer up to a 10 year guarantee!
The 4000 range is available in both natural gas and LPG for:
Combi – 25kW and 30kW with hot water flow rates up to 12.3 l/min.
System – 12 – 24kW

Find out more about the Greenstar 4000

If you have any questions please contact us on 01978 666 887 or email [email protected].
*Worcester reserve the right to reject a cash back claim if they have already provided support or a discount directly to the member.
** Each member can claim 1 x 6 months free subscription of TradeHelp Office HeatPRO for a Worcester 4000 purchase during August when claiming with the CLAIM4000 code. The free subscription will not be applied if the code is not claimed and please note that further boiler purchases do not get an additional 6 months free software, however they may still be put forward for cash back claims.