*Featured Special Offers
|
9 months, 27 days ago
Get this TradeHelp offer for instant payouts, 0.5% transaction fees and £40 cash back
Atoa Instant Bank Pay allows any customer to make payments directly to a business using their existing banking app.
As a member of the TradeHelp Buying Group you can now access this brilliant offer:
14 days of transaction with NO fees
0.5% transaction fee thereafter (RRP 0.6%)
£40 cashback if you transact £400 in the first 40 days (see t&cs below)
Customers pay by scanning a QR code with their smartphone camera or clicking on an SMS payment link. The customer is then redirected to their UK Bank App to safely authorise payment.
Atoa payment fees are up to 80% lower than credit/debit cards and funds are paid instantly, directly into your bank.
Start Saving Today
If you are already a TradeHelp member please click here to email your interest and agree to the Buying Group t&cs. A member of the team will then email you the TradeHelp-Atoa link to download the Atoa app with the reduced fees and special offer.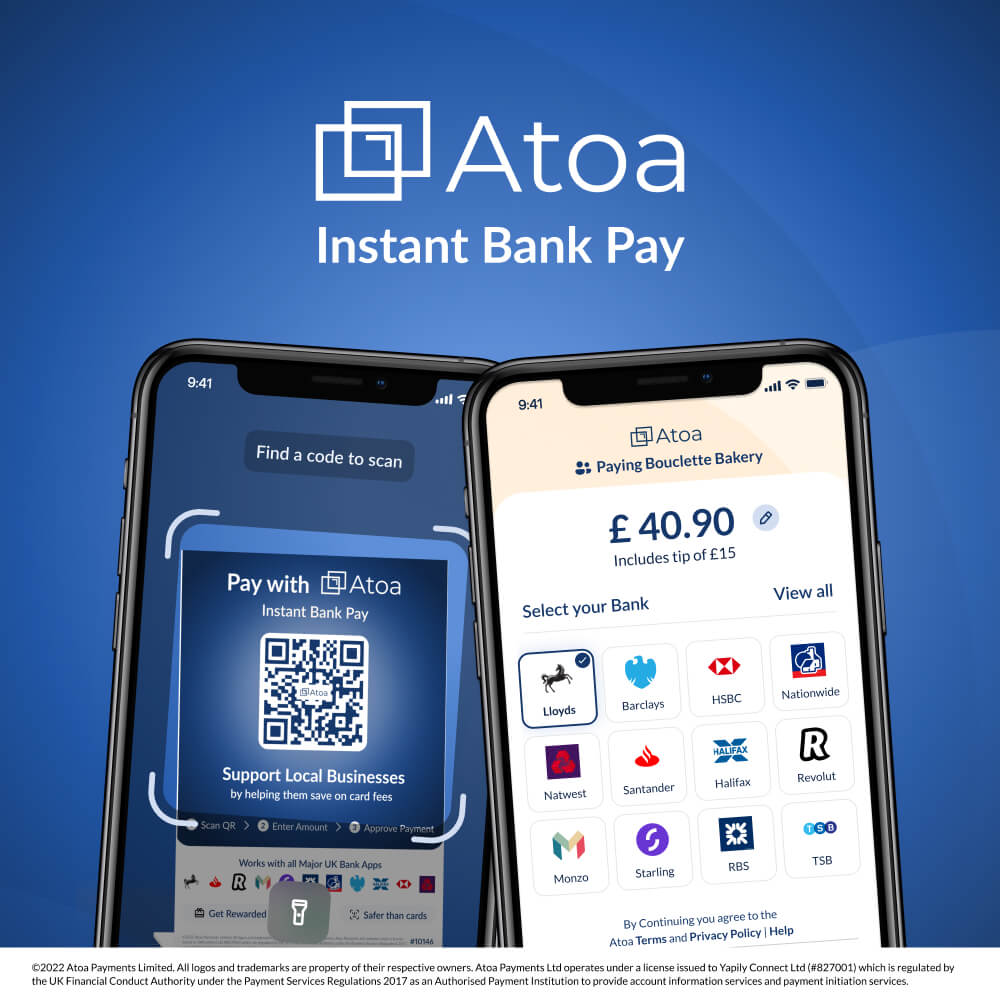 Why is Atoa trusted by thousands of businesses?
No contracts or hidden fees – just an unbeatable 0.5% transaction fee
Instant pay-out – receive the funds to your bank within 3-4 seconds, improving cash flow
No card terminal required – simply download the Atoa app to manage your payments
Receive tips – include the option for a customer to leave you a tip in the payment link (on average trades receive an additional £5.50 per job via Atoa payments)
Quick and simple – send secure Payment Requests via WhatsApp, SMS, social media or e-mail
Customer peace of mind – Atoa operates under a UK Financial Conduct Authority licence and every payment is authenticated within their Bank App using Face ID, Fingerprint Scan, or Secure PIN
Free Atoa Payment Pack – this stylish box includes a QR Stand, QR Stickers, Getting Started Guide and Branding Materials
Rated 'Excellent' on Trustpilot (Jan 2023)
Not a member of TradeHelp?
To access this great offer and many other benefits through the free TradeHelp Network, join for free below. There is no cost and no commitment.
Terms and conditions
Members of the TradeHelp Buying Group (who are new to Atoa) can access the 0.5% transaction fees (RRP 0.6%) and 14 days of fee-free transactions when they sign up through the TradeHelp-Atoa link available from TradeHelp or enter referral code 'TradeHelp' in the 'Did someone refer you?' field when registering. After your 14 days of fee-free transactions, your transaction fees are paid to Atoa by monthly direct debit. You can manage your direct debit at any time within the Billing section of your Atoa Business App. The further £40 cash back is earnt if you transact over £400 via Atoa instant bank pay and set up your direct debit with Atoa for your transaction fees within the first 40 days from signing up to Atoa through the TradeHelp-Atoa link or enter referral code 'TradeHelp' in the 'Did someone refer you?' field when registering . There is no contract and there are no hidden fees. After the initial 40 days any qualifying companies, confirmed by Atoa to have transacted £400 or more and set up their direct debit in that time, will be paid £40 in cash from TradeHelp. Payment will be made via bank transfer directly into your bank account. Please ensure bank details are saved in your TradeHelp app in the Settings section to allow us to make payment. Payment will be made to qualifying companies within 80 days of sign-up. TradeHelp can accept no liability for payment of the cash back if Atoa do not confirm qualification. Companies who do not qualify for the cash back are still able to access the reduced fee of 0.5% on transactions.